Using a custom subdomain allows Drift Email to directly capture and process the replies to your marketing email. There are three steps to connect:
Create a DNS record for your subdomain, pointing an MX record to Drift Email.

Set-up DKIM signing and a SPF record for your subdomain.

In your MAP, use your subdomain in both the FROM and REPLY-TO fields (yes, both!) when creating emails.
_________________________________________________________
Connect a new subdomain
DNS settings: create a subdomain & point to Drift Email
Name your subdomain. Common examples are hello.yourcompany.com, reply.yourcompany.com, info.yourcompany.com - the choice is yours!
Edit the MX records for your subdomain so it points to our servers. We have a primary and secondary service for redundancy. You should add both of these MX records to your DNS configuration:
hello.yourcompany.com      MX     10  smtp.driftmail.net
hello.yourcompany.com      MX     20  smtp2.driftmail.net
Our server will only handle replies - this does not impact your sending at all.
This will direct emails to any address @hello.yourcompany.com to the Drift Email mail server.
Configure DKIM and SPF
This is not a required step for Drift Email, but it is a strongly encouraged best practice for deliverability.
In your DNS account, create an SPF record on your new subdomain that matches the SPF record on the domain you currently use for email marketing.
In your MAP, add your new subdomain and configure DKIM signing.
If you use Eloqua - contact your Eloqua account manager or Eloqua support.
_________________________________________________________
Connect an existing subdomain
If you already have a subdomain, make sure it meets these requirements:
The subdomain is not used for internal communication

The subdomain is not used for other marketing content like landing pages or blog posts

The subdomain is not used in the return-path or bounceback address for your marketing emails
If your subdomain qualifies - first, edit the MX records for your subdomain in your DNS account as follows:
hello.yourcompany.com      MX     10  smtp.driftmail.net
hello.yourcompany.com      MX     20  smtp2.driftmail.net
Ensure that the MX record pointing at Drift Email has the highest priority of any other MX records in the DNS setup for your subdomain.
Then, go to Settings > Reply Domains. Select "Click here to add a reply domain", and enter your subdomain.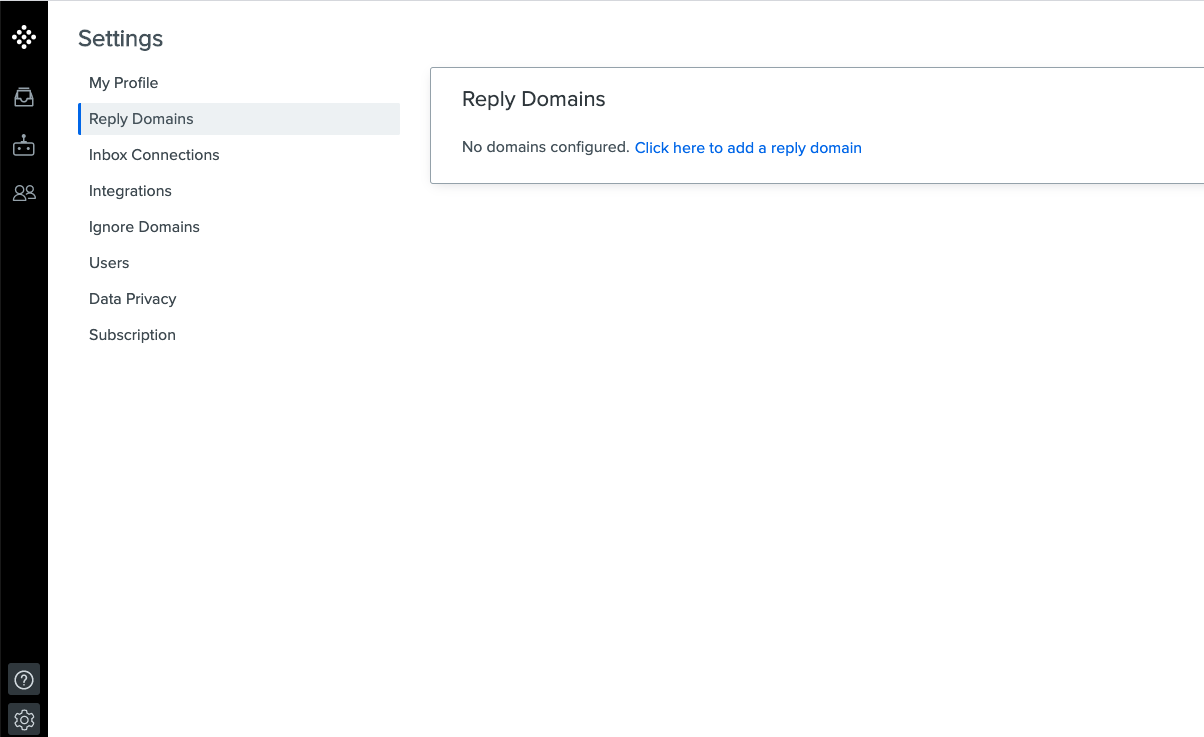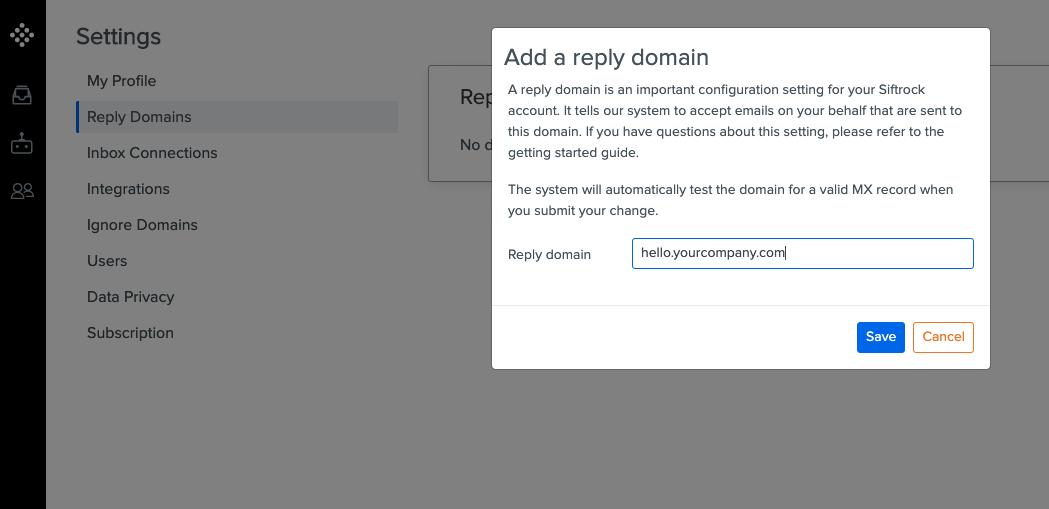 _________________________________________________________
How to use your subdomain
When creating emails in your MAP, you need to use the subdomain in both the "from" and "reply-to" fields of the email.
You can use any "name" in front of it that you want - for instance, if your subdomain is hello.company.com, you can use sales@hello.company.com, mike@hello.company.com, etc.
_________________________________________________________
FAQ
Why do the "From" and "Reply-To" addresses need to be the same?
Humans and systems behave differently when replying to an email. If a human clicks Reply on an email, their message will go to whatever address is in the "reply-to" field. If an automatic system "replies", it's hard to predict whether or not it will use the reply-to address. Some systems will pick up on the reply-to, but many automated systems will ignore the reply-to, and just kick the message back to the "from" address.
This means that if you only use your subdomain in one of those fields, it's likely that a portion of your replies will not go into Drift Email.
How does it work?
Drift Email manages an inbound SMTP server that handles email responses on behalf of our customers. When you connect your subdomain, and use it in the "from" and "reply-to" fields in your email, the email is still sent from your MAP's servers, but the responses are directed to our servers.
What should I name my subdomain?
Pick something "friendly", but keep your brand in mind. For instance, at Drift, we use hi.drift.com, because our marketing style is conversational. If your brand is more formal, something like "info" might be a better fit.
Here are some suggestions:
hey / hi

hello

get

go

reply

info

e

mail
How soon can I use it?
Depending on your DNS provider, it can take anywhere from a few minutes to a full day for the new subdomain record to be available for use. Check with your DNS provider directly if you're not sure.
Do I need to "warm up" my subdomain?
Assuming your subdomain is based on your normal company domain (example: drift.com and hi.drift.com), there is not as much of a "warming up" period with a subdomain as there would be if you were creating a whole new domain name.
Still, it's best to start conservatively. We recommend that your first 3 to 5 sends using your subdomain are highly segmented and targeted to high-quality, warm contacts who will have good open and engagement rates.