Drift Email is a HubSpot integrated solution. We support a flexible integration that pushes contacts and data field updates directly to your HubSpot account based on the rules you define in skills. In HubSpot we sync to data to the contacts, allowing you to use this data across HubSpot marketing, CRM, and sales tools.
Follow the steps below to set-up API integration between Drift Email and HubSpot.
Drift Insider Note:
Did you know we have a class on this integration over on Drift Insider? Check it out HERE
Email settings
Click on Settings in the navigation bar
Then click Integrations in the sub-navigation on the left side.
This brings up the integration page. Click "Connect with One of our Partners" and Select HubSpot
Grant Access in HubSpot
You will be routed to HubSpot to select your portal and grant access to the integration.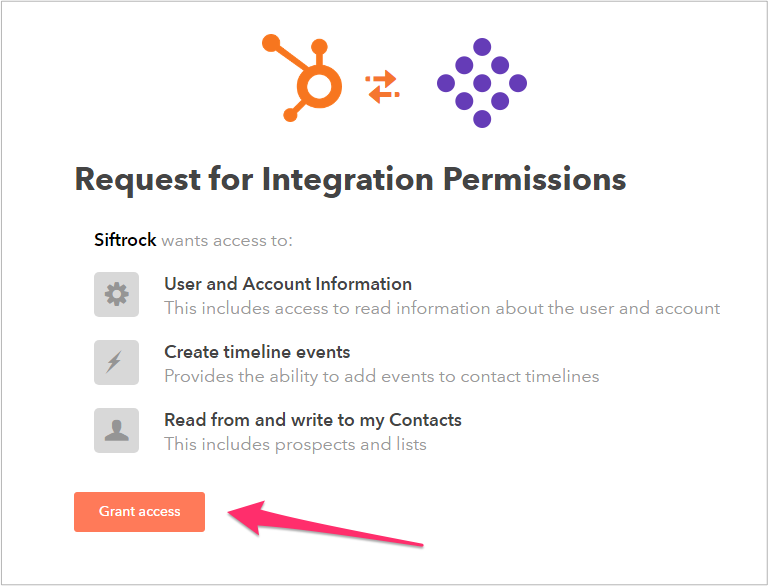 Explanation of necessary permissions:
Read from and write to my Contacts: This is to allow Drift to create new contacts in your account and update existing contacts

Create timeline events: This enables Drift to publish insights from replies to a timeline for a contact.

User and account information: This enables Drift to access you basic account information.
Test Your Integration
Once you've authorized Drift Email to access your HubSpot account data, you will be re-directed back to the integration settings screen. Click "Test" to confirm that your integration is connected.

Use Skills to Sync Data
Once you've configured your account it's time to start creating skills that tell us what to do with the data we process from your replies.
If you have any problems with setup, please email support@drift.com and we'd be happy to help.