Connect a bot inbox to Drift Email to send conversational email campaigns. When your prospects respond, our bot processes replies and automatically responds on your behalf. Email Bots are an add-on to your Drift Email subscription. Not sure if you have access? Chat in with our team!
Requirements & best practices:
Just like connecting an inbox for Drift Email reply management, there are a couple requirements:
Must be a real inbox/user account (not an alias, Google Group, distribution list, etc.)

Should not be an inbox belonging to an individual person
Should not be the inbox that you use for reply management in Drift Email
To get the best results, we recommend giving your Bot a person's name. It can be a real person on your team, or a made-up "persona" (like an imaginary SDR). For example, a persona we use internally is Ashlyn from Drift (anuboer@hi.drift.com).

It is highly recommended that you use a subdomain (for example, we use hi.drift.com rather than drift.com). This is an industry best practice to protect your sender reputation on your primary root domain.
Technical Permissions:
Drift Email abides by the principle of least privilege. We are only authorized for the bare minimum access required to continuously read emails from your Bot inbox, and send replies on its behalf.
To access Drift Email with Gsuite, we need the following permissions:
View your email messages

Search your email messages

View your settings (eg. filters and labels)

Gmail.Compose


To access Drift Email with Office 365, we need the following permissions:
Sign in as you and read your profile

Read your mail

Sign in as you

Access your data anytime

Mail.send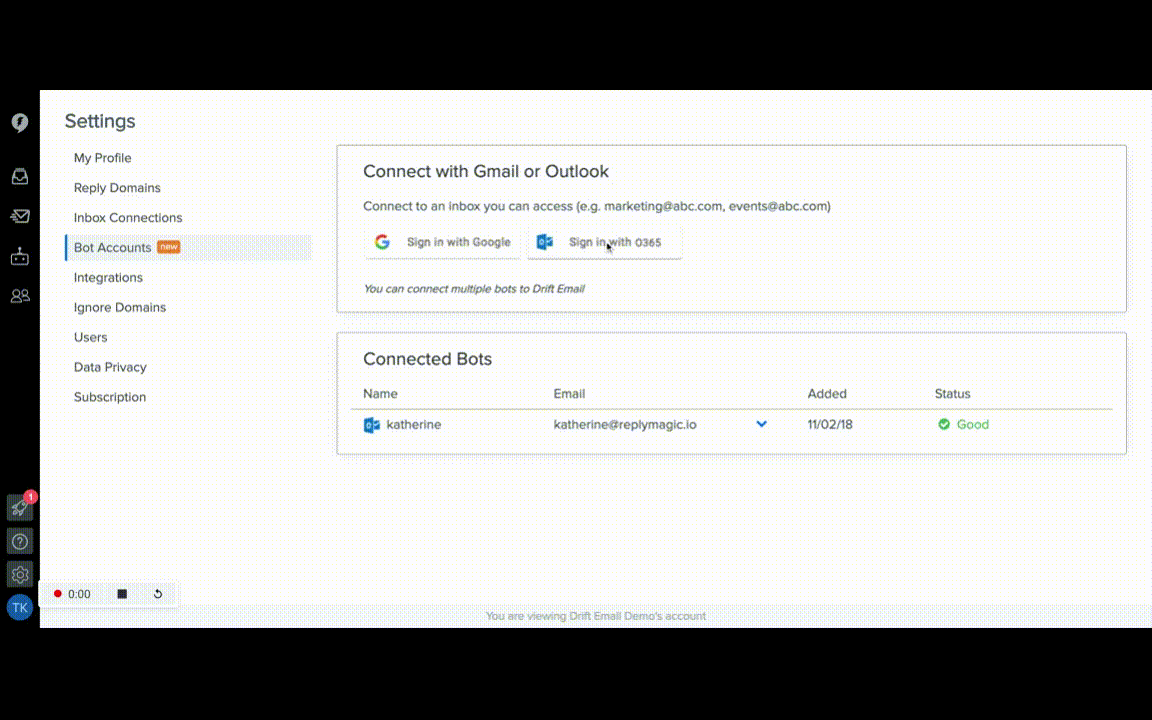 Connect your Bot Account:
In your Drift Email Account, click the Settings icon on the bottom left.
In the left sidebar menu, select Bot Accounts.
Depending on your Email provider, select either Sign-in with Google or Sign-in with O365.
Choose the Email Account and read what to expect when you connect with Drift Email.
You may be prompted to sign in to continue. Once you do that, you'll be directed back to the Bot Accounts page in Drift Email.
Once completed, you're all set! You can now send email campaigns through Drift Email!
Inbox Connection vs Bot Accounts
If you are using Drift Email for reply management, we do not recommend using the same email you have under Inbox Connections.

Why? If you use the same email inbox you will need to exclude it from all of your existing routing rules which creates greater room for error. If you do decide to use the same inbox, make sure you are filtering only for the correct subject line and ensuring that subject line is also excluded from all of your other routing rules.
If you ultimately decide that want to use an email currently under inbox connections, disconnect it under inbox connections and reconnect under bot accounts. Your reply management skills will still process.