Conversation statuses allow you to easily keep track of your active and inactive conversations! Keep reading to learn more about conversation statuses and what they mean within Drift!
In this doc, we'll cover
Conversation statuses and the ability to change them is available on all Drift plans.
Conversation Statuses and How to Change Them
All inboxes in Drift come with two conversation statuses - open, and closed.
To change the status of a conversation, select the conversation in the conversation view and then click the current status in the top right corner of the composer, and select the new status.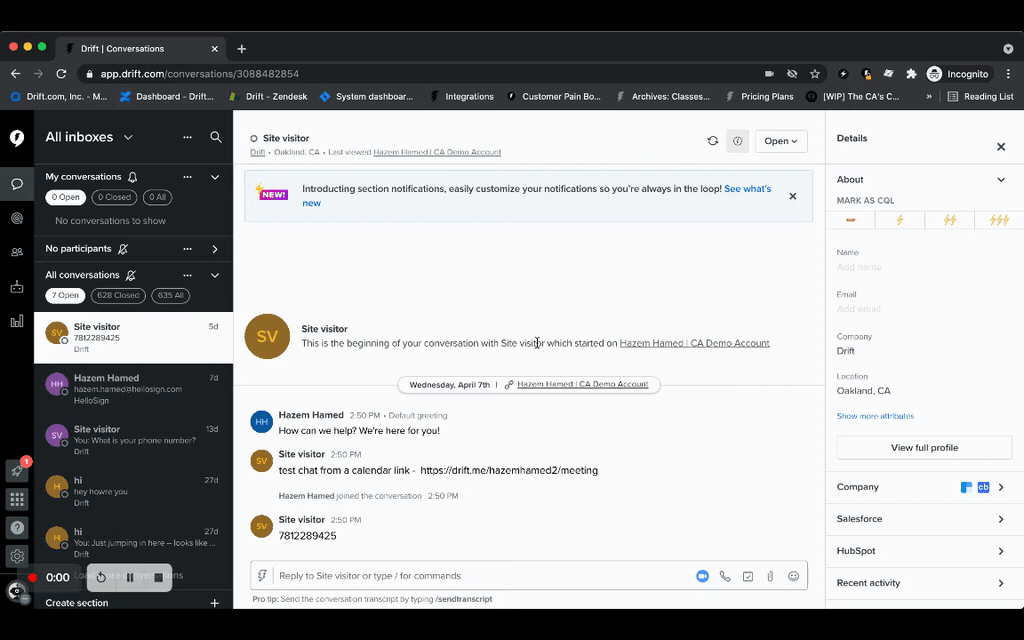 All conversation updates will be reflected in your chat as seen below.

Keep reading to learn how to bulk-close conversations.
What Each Status Means
Open
These are your active, ongoing chats. Keep your conversation view here to declutter your chats and to make sure you don't miss any messages. If you close out a chat and your site visitor chats back in, this will re-open the conversation again.
Note: Chats between Bots and site visitors are considered Open Conversations.
Note: In order for routing to happen, conversations must be set to Open.
Closed
So, here's what you can do for those conversations that you would otherwise want to delete! When Closed, the conversation will essentially be archived.
To close multiple conversations at the same time or bulk-close, click the ellipsis button to the right of "My Conversations" to expand a drop down menu where you can find "Close all my conversations". Note: you can only bulk close conversations listed under the "My conversations" section.
Here's what it will look like:

All
This is simply where all of your Drift conversations live for a given section, both open and closed conversations!
Filtering Conversation Statuses
To change what conversation status is displaying in your sidebar you can click the pill button under "My Conversations" for the given status you would like to view. It would like this:
This is a question we get frequently from our customers!
In short, Drift does not allow conversations to be deleted. This is because Drift doesn't want to lose any activity with your contacts and/or leads. Instead of deleting conversations, Drift utilizes Conversation Statuses to help organize your chats.
Settings Conversation Statuses via the Flow Builder:
In building your bot playbooks, you also have the ability to have your bot set the conversation status. To do this, simply click the "Conversations Status" box at the end of your bot flow. From here you can choose to Keep the conversation open, Auto-close the conversation, and Permanently close conversations.
Each time you add a new path, you'll see a new conversation endpoint labeled "End of Bot Flow" and a "conversation status" box. Click on

Conversation status

to change the end behavior. You'll see three available options.

Keep Conversation Open

You'll want to keep routed conversations open so they show up in the rep's conversation view
Auto-close conversation, but allow site visitors to chat back in
Conversation will be closed within the conversation view, but the site visitor can re-open the conversation

If they re-open the conversation and there aren't any participants, it will route using lead routing rules (more details in our Routing document

)
Permanently close conversations; don't allow site visitors to chat back in
Conversation will be closed within the conversation view and the composer will be greyed out for site visitors so they need to start a new conversation

A bot message will be sent at the end of the flow
For further information on building out your bot playbooks, check out our help doc here.
How to Auto Close Conversations
Setting conversations to auto-close is easy! Head to Settings > App Settings > Conversations > Advanced or click here!
Simply toggle the setting on, and select or type in the amount of minutes/hours you'd like before a conversation auto-closes.
You can also choose to only apply this setting to conversations which had no human participants. Just check the box!
Enabling this setting will not automatically close any conversations prior to this setting having been enabled.
FAQs
If I close conversations at the goal level, do I also need to close the entire flow at the bottom?
No. If you've set up your Goal to auto-close conversation, you do not have to set your bot to close the conversation again. If your site visitor responds and re-opens the chat, this conversation is now a live chat and will need to be manually closed.
Live chat conversations (those with no bot participants) must be manually closed.
How do I see my previous conversations?
Assuming that you've closed your past conversations, you can find them by switching your conversation view to Closed status. (Scroll up if you need a reminder on how to do this 😎) This will help you reference any questions, customers, and conversations you had.
How does this affect my Salesforce/HubSpot integration?
Many of our integrations such as Salesforce, HubSpot, and Zapier are built to sync upon conversation-close. This is so that your CRM gets all the information collected from your chat! If you're not seeing your most recent conversation or contact in your CRM account, make sure that the conversation was closed (and that you captured their email).
Related Reading
Learn more about various Drift conversation features 👉🏼
Conversation Stats, Reporting, and Export
How to Add Participants to a Conversation
What Your Conversation View Looks Like Based on Your Plan
Creating Inboxes for Conversations
Still stuck? Email us at support@drift.com. Not using Drift yet? Get your free account here.